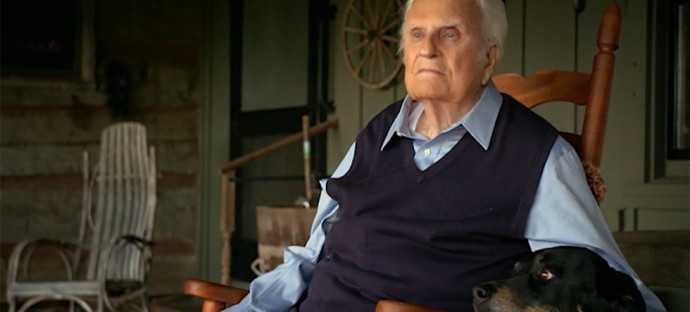 My Grandfather's Hope for America
This week my grandfather turns 95. Most people his age would have retired many years ago, but he has continued to work in to his golden years because he feels that God's calling on his life isn't through. The burden he has had for most of his life to reach people for Jesus Christ hasn't lessened; if anything it has grown as he understands that amount of time he has to reach people with the Gospel is growing short. And he wanted to preach one more time.
At 94, I imagine it's difficult to do most things. Preaching in a stadium just wasn't a possibility for him. So, my grandfather began to prepare a message that he could share from his living room, and that's just what he's going to do.
For months video crews from BGEA have visited the home of my grandparent's in Montreat, NC and with the help of my dad, my grandfather's pastor and others, they have been able to capture the message that he has been preparing to give for years. Through a ministry at BGEA, called My Hope, my grandfather was able to tell people about the cross, the ransom paid for each of us through Christ's separation from the Father in that moment of His death, and how no matter the trials in their lives, it's not too late to come to the foot of the cross and accept Jesus Christ as their own personal savior.
It's incredible. It's a message that he has preached for over 60 years and on his 95th birthday my grandfather's message, "The Cross", is going to be shown on TV's across the U.S. FOX News will be broadcasting the program at 10 p.m. ET, and other stations across the country will show it between Nov. 7-10. It's a powerful, amazing message filled with truth and I hope you will join me in not only watching "The Cross" but telling people you know about it as well. My dad describes it as a message that can transform the nation and in my heart of hearts I believe that this is true.
To find out when you can watch "The Cross" in your area go to www.watchbillygraham.com.