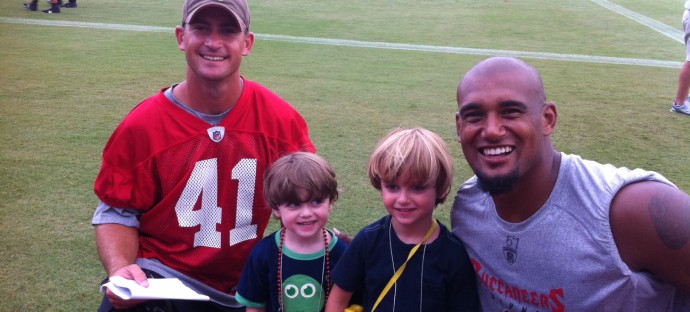 I am Ready For Some Football
While I was in Guyana last week, the five month NFL lockout finally came to an end.  Praise the good Lord! I love my husband, and I enjoy having extra time with him, but I was ready for him to go back to work! And I am ready for some FOOTBALL in my life!
Corey entered the lockout as a Restricted Free Agent and re-signed a contract with the Tampa Bay Buccaneers last Friday. However, the Collective Bargaining Agreement, which is the contract between players and team owners, has not been ratified, and free agents are not allowed to practice till August fifth.
Don't ask me why, because none of it makes sense to me.
These next few weeks are very crucial for Corey.  A contract are only the terms if he makes the team.  It doesn't mean he has already made the team.  So, every play he makes is watched intensively, every mistake is recorded, and every day is important.
I will keep you updated on Corey.  These next few weeks, I put all my travels on hold and focus on My Man.
If you are in the Tampa area, this Saturday night the Buccaneers have practice at Raymond James Stadium.  Free Admission, $1 parking, $1 hotdogs, $1 drinks and fireworks.  checkout their website for details. It is going to be a great family night! Hope to see some of you there.
Who is your favorite NFL team?
Who is your favorite NFL player?